XNUMX am-XNUMXpm
 (However, Saturdays, Sundays, and holidays are until XNUMX pm).
 Monday is a closed day.
 (However, if Monday is a national holiday, the museum will be closed on Tuesday in principle)
 As a general rule, preparation and tidying up shall be included in the rental time.
 For other details, see "Meeting room usage information"Please refer to the.

 As a general rule, activities for the purpose of profit such as selling goods in conference rooms are not possible.
 In addition, it cannot be used for commercial product exhibitions, product explanations, seminars, lectures, etc.



《Caution》From May XNUMX, as a measure to prevent the spread of new coronavirus infection, each room will have about half the capacity.
    We have received it below, but after may XNUMXth, we will receive it at the normal capacity.
    Incidentally,The XNUMXnd and XNUMXth conference rooms have only small light windows and cannot be sufficiently ventilated.
    alone as beforeReservation not possible.


 Trying to use it for the purpose of implementing projects that are recognized as contributing to the promotion of international exchange in this prefecture
 If you do, the date of useXNUMX months agoFrom, in other casesXNUMX months agoYou can accept from.
 ※2023年12月~2024年3月1日 までの予約空き状況 (2023年12月1日版)
  XNUMX reservation/availability

 * Please call the number below for confirmation and reservation.
   (Public interest incorporated foundation) Kagawa International Association
   Telephone XNUMX-XNUMX-XNUMX
 * Submit the application form and pay the usage fee within XNUMX weeks from the reservation (visit, phone, fax).
   In principle, you will receive it.
 * In case of cancellation on the day, the usage fee will be charged unless it is unavoidable such as a typhoon.

 Please submit the "Kagawa International House Use Permission Application".
 The application form is in the office on the XNUMXnd floor of I-Pal Kagawa.
 You can also download it. (Conference room use application form download version)
        (Pdf format) or (Excel format)
 Please fill in the required items and visit us or fax (XNUMX-XNUMX-XNUMX) to apply.

Use of the accessory equipment



 About the attached equipment that can be used Usage fee list for more information.
 A ceiling-mounted LCD projector is installed in the XNUMXth conference room.
 It can be used in the XNUMXth independent XNUMXth and XNUMXth connection and in the large conference room.

Size and arrangement of the conference room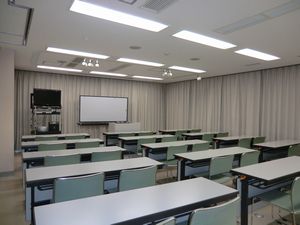 On-site facilities  Photos and specifications  .
  In the conference room on the XNUMXrd floor layout drawing .
  Connect the XNUMXth, XNUMXth and XNUMXth
  Set up in a large conference roomlayout drawing  OfThis is an example. (*)
  In the small conference room on the XNUMXnd floorlayout drawing .
  In the exhibition room layout drawing .


note)(※)
 In the above example of setting up a large conference room, tables, chairs and other equipment are added, but the standard is XNUMX tables and XNUMX chairs (total of XNUMX, XNUMX and XNUMX conference rooms).
 If you want to add more than XNUMX tables, you will need to rent at least one of the XNUMXst, XNUMXnd, and XNUMXrd meeting rooms to supply the tables.