I-PAL Japanese Language Courses 2023/2023Year I-PALDayWordsseat


Learning Japanese is essential for foreign residents to live in Japan with peace of mind.
I-Pal Kagawa provides opportunities for foreign residents to learn the Japanese language necessary for living in Japan.
Mainly for the purpose of improving conversational ability, acquire Japanese ability from "Introduction 1" for learners who are learning Japanese for the first time to the level of completing the beginner's class (Japanese Language Proficiency Test (JLPT) N4). We offer 3 levels up to "Japanese 5" for the purpose of.



■ 2023年度 IPAL Japanese Course

This is a class to learn Japanese once a week for about 6 months.
Courses are offered at 5 levels.


Current,2023年度 《Prophase》 We are looking for students to take this class.



《Prophase》 NEW !!

【Course period]
Thursday class 4/13-9/14
Saturday class 4/15-9/16
* Detailed scheduleFlyer (Japanese / English / Chinese).

[Number of times]Once a week (once for 1 hours) 17 times

[Target]Those who want to learn Japanese at the beginner level, in principle, 5th grade and above

【place】I-Pal Kagawa

[Training fee]4,000 yen (3,600 yen for iPal supporting members)
After 10■If you take a class from, the tuition fee will be half price. (2,000 yen, Ipal supporting member 1,800 yen)
*Thursday class:2023. 6, 22after class.Saturday class:2023. 7, 1after class.

[How to apply]
Application form (Japanese/ English / Chinese)Please fill in the required items and apply at the I-Pal Kagawa 2F office with the tuition fee.

* If you are studying for the first time in the Ipal Japanese language course, you will be asked to take a simple classification test and a tour in advance. (Not necessary if you have never studied Japanese before.)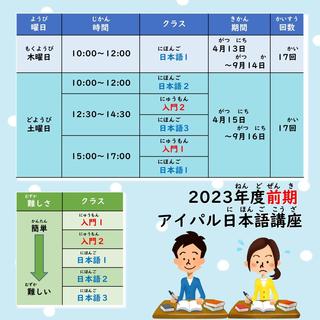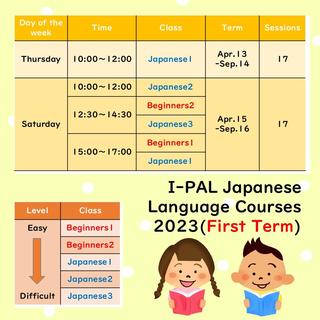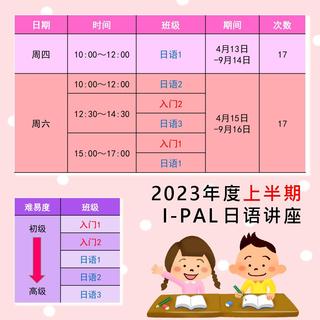 ■ I-PAL Japanese language courseFor inquiries and applications, please contact the person in charge of the Japanese language course.

(TEL) 087-837-5908 (FAX) 087-837-5903
(E-MAIL) nihongo * i-pal.or.jp
* When sending an email, please change * to @.
Thank you for your cooperation in order to prevent spam.




★★★About Japanese language classes in Kagawa Prefecture★★★


You can study Japanese outside of I-Pal Kagawa ⇓  

(Japanese / Chinese / English / Tagalog / Vietnamese / Spanish)