In recent years, earthquakes have occurred frequently in various parts of Japan, and disasters due to climate change such as typhoons and floods have increased, so people's awareness of disaster prevention has increased.
Various disaster prevention measures are being carried out.
However, foreign residents have no experience with earthquakes, storms, floods, and other natural disasters.
About disaster
Some people have no prior knowledge.
Furthermore, due to my lack of Japanese proficiency, I am unable to speak Japanese in the event of a disaster.
You may not be able to understand the disaster information provided by the evacuation center, or you may have trouble living in the evacuation center due to differences in lifestyle or culture.
There is also the possibility of doing so.
Therefore, in order not to make foreign residents who are members of the local community vulnerable to disasters, our association
We carry out practical training for volunteers such as interpreters.





This fiscal year, we will hold a training program to train foreign community disaster prevention leaders who will play a central role in disseminating information to foreign residents in the foreign community in the event of a disaster.

★Flyer for training for disaster prevention leaders for foreignersClick here for more information.






Main training contents in the past
≪Training for supporters≫
・ Multilingual support center installation and operation training
・ Evacuation center patrol training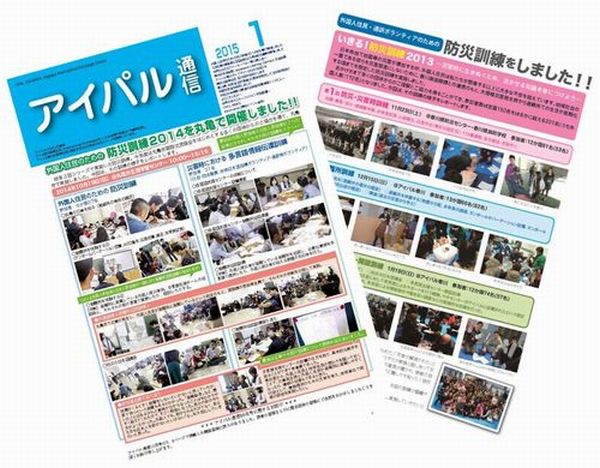 ≪Training for foreign residents≫
・ Know about local disasters
・ Learn how to protect and help yourself and others
・ Experience a shelter
・ Learn the vocabulary and kanji required in the event of a disaster


≪Common to supporters and foreign residents (joint implementation) ≫
・ Deepen exchanges between participants through games related to disasters
* See below for the implementation report.
(25,26,27,28,29,30,Year of the reunification,Reiwa 2nd year)
Useful information link to support foreigners in the event of a disaster 
"Disaster Prevention Guidebook for Foreign Residents" (International Affairs Division, Governor's Office, General Affairs Department, Kagawa Prefecture)
http://www.pref.kagawa.lg.jp/content/etc/subsite/kokusai/live_together/m_disaster/guidebook.shtml