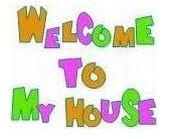 At the Kagawa International Association,
By visiting ordinary households by foreigners visiting Kagawa Prefecture
To be able to understand each other's cultures and deepen friendship and goodwill
We are looking for homestay and home visit families. 
We are waiting for the registration of many people.



Foreigners stay at their host family's home and experience daily life at home in Japan.
Most accept only weekends (Friday, Saturday, XNUMX nights, etc.).


♪ Past acceptance results and plans for this year ♪
◆ FYXNUMX (results) Thailand (XNUMX people), Brunei (XNUMX people), Latin America (XNUMX people)
◆ FYXNUMX (actual results) Brunei (XNUMX people), France (XNUMX people), Finland (XNUMX people)
◆ FYXNUMX (results) Brunei (XNUMX people)
Foreigners visit the host family's home and interact with their families.Accommodation is not included.


Our association conducts home visits for international students enrolled in universities in the prefecture twice a year.
Many people can speak Japanese and do not need to stay overnight, so you can feel free to accept and interact with them.
For further information, please read "About Kagawa Home Visit for Foreign Students".


♪ Scheduled for 2022 ♪
Summer: To prevent the spread of the new coronavirus, we will hold an online exchange meeting with foreign students.

"summer" NEW !! We are currently looking for participating families!
Wednesday, July XNUMX, XNUMX XNUMX: XNUMX-XNUMX: XNUMX 
For further information, please read here.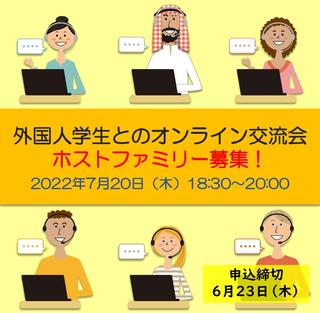 * We will inform you about the implementation of the home visit in winter on our website, Facebook, etc. as soon as it is decided.


 Host family requirements
We will make it a family that is a citizen of Kagawa prefecture and can accept foreigners with the consent of the whole family regarding homestay and home visit.



 Host family registration
If you would like to accept a homestay or home visit, please apply to our association using the designated form.
If deemed appropriate, we will register at our association.
① Please download the registration application form from the bottom and submit it by e-mail, fax, mail, or visit.
Please be sure to register your computer's e-mail address for quick communication.
◆ Homestay Visit Registration Application (WORD)
◆ Homestay Visit Registration Application Form (PDF)
(XNUMX) Unless otherwise requested, the registration will be automatically renewed every year, but in response to the guidance from here, within XNUMX years from the registration
If you do not contact us even once, we may cancel your registration. (Re-registration is possible at any time.)



 Cancellation of registration

Registration will be canceled if any of the following are true:
① When there is a request to decline from the registered family member
② If you go against the purpose of homestay / home visit
③ When the cancellation is deemed appropriate by other associations



 Applicants and mediation

① Information on homestay / home visit implementation
When the homestay / home visit schedule is decided, we will send a guide to recruiting host families to those who have registered as a host family.
② Application
Please use the application form attached to the guide to indicate whether or not you can accept it.
③ Matching and result notification
We will match with the host family and foreigners who experience homestay / home visit, referring to the requests and conditions of both parties.
After that, we will inform the host family of the information of the prospective host and ask them to submit the "Host Family Introduction Table", which will be a formal host request.
④ Face-to-face, homestay implementation
We will welcome guests at the designated date and time and place a homestay / home visit.We will inform you in advance if we will hold a face-to-face ceremony.
⑤ After implementation
The homestay is over when the guest is delivered to the designated date and time.After the survey, we may ask you to submit a questionnaire.



 Notes

① In the unlikely event that an accident occurs during the homestay / home visit period, the association will not be held responsible.
(Foreigners have insurance.)
(XNUMX) If acceptance becomes impossible due to an emergency or unforeseen situation, the association and the host family will not be held responsible.



 Contact / Application

Kagawa International Association
Homestay / Home Visit
(E-MAIL) homestay*i-pal.or.jp
When you send an email*The@Please change to and send.
We apologize for the inconvenience and thank you for your understanding.
Monday is a closed day.If Monday is a national holiday, the next day will be closed.
Please check the address and telephone / fax number below.