Local Japanese language classes play an important role in acquiring the Japanese necessary for the lives of foreign residents and social knowledge rooted in the community.Volunteer Japanese language teachers who are indispensable for its operationUpbringingIn cooperation with the international exchange associations of municipalities and the management organizations of Japanese language classes, we offer courses to help students.Now.
For those who have no experience as a Japanese language teaching volunteer but wish to participate in the activity in the future, or those who are already active as a Japanese language teaching volunteer but have never learned about Japanese language education. In addition, you will learn the basics of teaching Japanese as a foreign language and the knowledge and skills required when working as a Japanese language teaching volunteer, such as "easy Japanese" that is useful for communication with foreigners, through practical training. This is a short-term course.


*Registration is closed as this course has reached capacity.
Thank you for many applications.


[Reiwa4year】 NEW !!




"Japanese Volunteer Training Course for Children with Foreign Roots"




As the number of foreign residents increases, so does the number of children who need Japanese language instruction.
This year, for those who are interested in learning Japanese and supporting subject learning for children with foreign roots,
Learn what you need to know and what is useful when helping children at school or in a local Japanese language class.
All courses for volunteer beginners7It will be held once.


● Date and time and number of times:Every Sunday from August 4st (Sunday) to October 8nd (Sunday), 21th year of Reiwa
        10: 00 ~12:00 (all7Back)

● Venue:I-Pal Kagawa Naka2Floor Exchange floor

● Target:Those who wish to work as volunteers to support the learning of children with foreign roots
   * Priority is given to those who have no experience in activities as support volunteers and those who are shallow.

● Capacity:20First name

● Tuition fee:5,500 yen (supporting member 4,900 yen) * Collected at the reception of the first course

● Application deadline:Friday, October 4, 8rd year of Reiwa


For details on the content of the course and how to apply, here.
The application form is herePlease download from.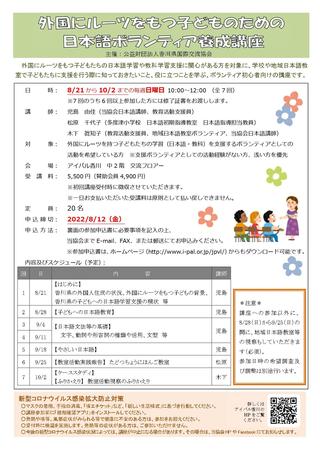 [Reiwa 2nd year]
It was co-sponsored with Ayagawa Town.
For details such as the content of the course, here.


[Inquiries] Japanese volunteer training course charge

(E-MAIL) nihongo * i-pal.or.jp  

* When sending an email, please change * to @.
 Thank you for your cooperation in order to prevent spam.
Please check the address and telephone / fax number below.
Monday is a closed day.If Monday is a national holiday, the next day will be closed.