In order to provide effective Japanese language instruction to children who have tools in foreign countries, we will exchange information with those involved in Japanese language instruction about issues in the field of education and efforts to solve them. We will provide you with an opportunity to learn useful teaching materials and teaching methods.


*Registration is closed as this course has reached capacity.
Thank you for many applications.


[Reiwa

4

year】 NEW !!


"Japanese Volunteer Training Course for Children with Foreign Roots"

As the number of foreign residents increases, so does the number of children who need Japanese language instruction.
This year, for those who are interested in learning Japanese and supporting subject learning for children with foreign roots,
Learn what you need to know and what is useful when helping children at school or in a local Japanese language class.
All courses for volunteer beginners7It will be held once.

For details on the content of the course and how to apply,Click here for more information..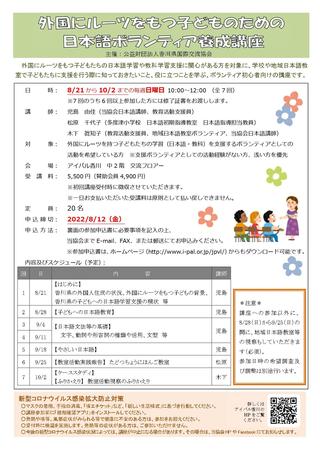 [Reiwa 3nd year]
We held a study on Japanese language learning support for children with foreign roots!
Report articleClick here for more information.