[Course period]

 The I-PAL foreign language course is a one-year continuous course consisting of three terms.

 ↓↓ April 2023 term ↓↓ Click the image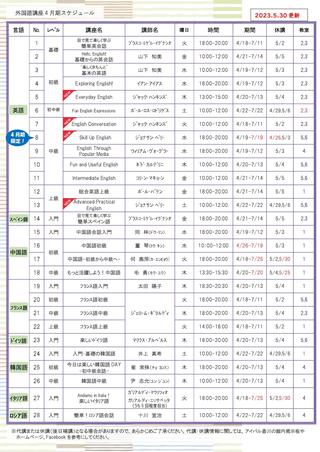 April Term April 4 (Tue) - July 4 (Sat) (18 times in total, 7 hours in total) Flyer
September term Early September ~12Early in the month (12 times in total, 24 hours in total) 
January period Early January to mid-March (all9Times / total18time)
★ Latest schedule 2023 4Month  here

★ 2023 foreign language course cancellation/substitute information  here
[Capacity] 30 people for each course (deadline as soon as the capacity is reached)


[Target] High school students and above

[Tuition fee] April/September ⇒ 4 yen
[Training fee] January ⇒ 1 yen

Depending on the course, a separate textbook fee and material fee may be required. herePlease check (2023 version).
* As a general rule, tuition fees and textbook fees once paid are non-refundable.Please be careful.


* You can visit each course once for free.If you would like to visit, please contact us.
【Email : gaikokugo-kouza@i-pal.or.jp  TEL: 087-837-5908]




◆Please see the following PDF for the contents of the course. (Click the language you want to see.)


English (basic / beginner),English (intermediate / advanced),Spanish/Chinese,French/German,Korean・Italian・Russian,There are 8 courses in 28 languages ​​in total.


[Place] I-PAL Kagawa (Kagawa International House)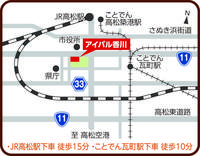 [Start accepting applications] We will start accepting applications from March 4 (Wednesday) for the April semester.
       *March 3st for our association supporting members(water)You can apply from


[How to apply] Please fill out the application form and bring it with the tuition fee to our association.
       * The application form is hereYou can download from.
What is your current application status? herePlease see (as of January 5)




① Depending on the circumstances of the instructor, the class may be replaced or canceled (supplementary class at a later date).
Please check the I-PAL Kagawa website, bulletin board, and Facebook page."Class Cancellation/Substitute Class Information"will be posted, so please check.
(XNUMX) If a weather warning is issued, the course will be canceled based on the following criteria.
・ If the alarm is canceled before the course starts, the course will be canceled.
・ We will not contact you individually by phone, so please check the weather warning on the Takamatsu Meteorological Observatory website, etc., or check the "Canceled / Substitute Information" on the I-Pal Kagawa website and Facebook.






・Register for the I-PAL Foreign Language Course LINE@.
 We will send you information about foreign language courses and information such as cancellations and substitute classes in a timely manner.
 Please register from the QR code below ↓↓
 

・ For measures to prevent infection with the new coronavirus here.


・ There is no parking lot at I-Pal Kagawa (Kagawa International House).Please note that there is no parking ticket service.
******************************************