* Since the capacity of both courses has been reached, application for participation has been closed.

All that can deepen understanding of different cultures while getting familiar with the cultures of each country2Course!
The prefectural international exchange members John Chaeyoung (from South Korea) and Guido Carderini (from Canada) will be in charge.
Capacity is for each course20It is a first name.We look forward to your participation!

■ First course: Korea


I want to find my own "beauty"! "Changes in Korean aesthetics"

Sunday, July 2022, 7 3: 10-00: 11 (reception 30: 9-)



■ Second course: Canada

Get to know the circus "Cirque du Soleil" that Quebec, Canada is proud of!

Saturday, July 2022, 7 16: 10-00: 12 (reception 00: 9-)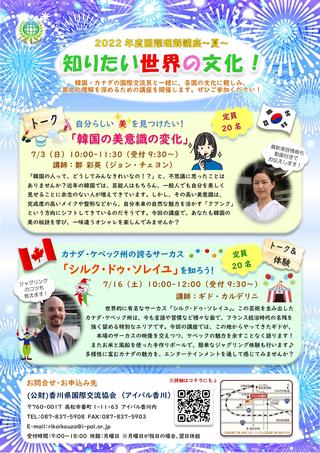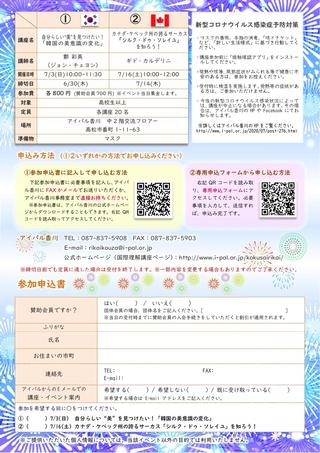 For more information, please visit our website.International Understanding Course Page,Flyer.
Dedicated application formYou can also apply from.